Department Chair
Assoc. Prof. Margarita Stankova Ph.D.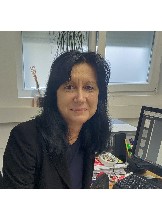 Assoc. prof. Margarita Stankova, MD, PhD graduated from the Medical University, Sofia, Psychiatry specialty and the Master's program in "Communication disorders" at the NBU. She has PhD in Medicine. Margarita Stankova has successfully completed courses and trainings at NTNU, Trondheim, Iavante Foundation, Granada, Texas A&M University.
She is a director of the Centre for Treatment of Childhood Communication and Emotional-Behavioural Disorders at the NBU and head of the Department "Health care and Social Work".
The scientific and practical interests of assoc. prof. Margarita Stankova are in the field of psychopathology, developmental disorders, mental health, communication disorders, autism spectrum disorders, therapy intervention in mental health, assistive technologies.
Assoc. prof. Margarita Stankova is an author of four books in about developmental disorders and 84 papers in Bulgarian and English. She participated in 15 applied and scientific projects in the field.
Contact information:
New Bulgarian University
Department of Health Care and Social Work
Building 2, Room 213

E-mail: mstankova@nbu.bg
+359888996114