Department Chair
Assoc. Prof. Margarita Stankova Ph.D.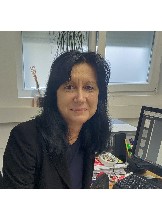 Assoc. prof. Margarita Stankova, MD, PhD has graduated from the Medical University – Sofia, with a medical specialty in Psychiatry; she also has a Master's Degree in Communication Disorders and a PhD in Medicine. She has attended courses and training offered by NTNU, Trondheim, and Ivandante Foundation, Granada. Since 2013 she has been an Associate Professor in Public Health at NBU, within the Healthcare and Social Work Department. Since 2014 she is the head of the Centre for Treatment of Childhood Communication and Emotional and Behavioral Disorders at NBU. The research interests of assoc. prof. Margarita Stankova, MD, PhD are in the field of Psychopathology, Developmental Disorders, Communication Disorders, Autism Spectrum Disorders, Integrating Children with Special Needs, Therapy Programs and Assessing the Effect of Therapeutic Interventions.
Associate Professor Margarita Stankova, MD, PhD is the author of 4 monographs in the field of Developmental Disorders, as well as many publications in the field. She has participated in 15 research and applied projects.
Contact information:
New Bulgarian University
Department of Health Care and Social Work
Building 2, Room 213

E-mail: mstankova@nbu.bg
+359888996114